Screw Refrigeration Compressor Package Unit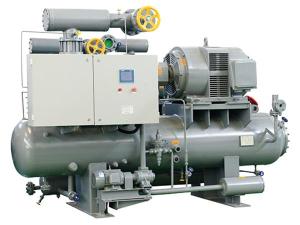 LG series screw refrigeration compressor is a new generation product which has been designed and developed for many years by Moon Group. It has obtained more than 10 independent intellectual rights and core technologies. This refrigeration compressor, which is widely applied in large and medium-sized refrigeration and air conditioning systems, can be used to compress and transport refrigerant gas for refrigeration, process cooling or air conditioning system.
Technical Parameters
Type
Refrigerant
Refrigerating Capacity(KW)
Engine rated Power(KW)
High-temperature Condition
Medium-temperature Condition
Low-temperature Condition
High-temperature Condition
Medium-temperature Condition
Low-temperature Condition
With economizer
Without economizer
LG12B
R717
316
174.8
62
51.7
65
65
55
R22
292
168.1
68.9
54.7
LG16BS
R717
440
243.8
87.7
72.9
90
90
75
R22
406
243.1
97.9
76.8
LG16BM
R717
692
383.5
137.4
114.9
132
132
110
R22
640
370
154
122.9
LG20BS
R717
1000.4
555.2
200.5
166.8
185
185
160
R22
918.4
530.6
225.5
177.3
LG20BM
R717
1399
743.4
269.2
225.3
250
250
200
R22
1225
709.9
298.2
238.6
220
LG25BS
R717
2172
1207
442.9
369
450
400
315
R22
1996
1159
496.5
391.8
LG25BM
R717
2731
1518
557.2
465.5
500
450
400/450
(Economiser)
R22
2516
1462
621.1
495.4
LG25BL
R717
3294
1834
674
564.1
630
560
450/500
(Economiser)
R22
3044
1769
750
601.2
500
LG32BM
R717
5168
2877
1059.9
885.1
1000
900
710/800
(Economiser)
R22
4776
2776
1183.5
943.4
LG32BL
R717
6177
3439
1268
1058
1120
1000
800/1000
(Economiser)
R22
5708
1410
1410
1128
The advantages of Products
1. New design
The new linear design (bilateral asymmetric full arc enveloping line) is more suitable for grinding. The wire seal is changed to belt seal, so the oil film is covered evenly and there is no need to make up the residual clearance of the machining with sealing rib.
Both the return and supply air ducts adopt irregular wave mechanical noise reduction treatment, and the noise is obviously decreased.
The tooth pair of 5:6 is formed by optimizing tooth number combination, addendum modification coefficient, Kurtosis coefficient, length to diameter ratio, lead and twist angle.
Screw refrigeration compressor has a comprehensive array of models and a wide application.
2. High safety and reliability
The British JOHN mechanical seal has the advantages of simple structure, convenient installation and excellent sealing.
The Japan NSK high precision cryogenic bearing has the advantages of anti-corrosion, anti-aging, high temperature resistance and high precision so as to ensure a long-term position of rotor accurately.
A new type of HT280 casting material has a high strength, low temperature resistance and helps the reduction of sulfur and phosphorus, which ensures a uniform thermal expansion of components and makes the compressor run safely and reliably for a long time.
Return air duct and supply air duct adopt irregular wave mechanical noise reduction treatment, and the noise is obviously decreased in a best-in-class level.
According to the international advanced oil separation principle, an extra-effective oil separator was designed with characteristics of folding plate impact, gravity settling, molecular sieve adsorption to make the oil efficiency up to 3-5ppm.
The patented rotor piston pump, stainless steel oil path, imported constant pressure valve, forced oil feeding and differential pressure oil feeding are all applied to ensure uninterrupted oil supply and constant oil pressure.
3. Advanced Operation
The controller adopts an industrial PLC (industrial computer) by Schneider in French. Compared with single-chip microcomputer, this controller has advantages including a faster running, a higher reliability, a stronger control and more conveniences, which realizes modularization, convenient networking and the first-class UI interface.
Manual and automatic operating system are combined together to make operation running safely.
4. Mechanical system
The layout of refrigeration parts is scientific and the piping layout is reasonable and concise.
The suction filter is separated from the compressor body to ensure that the working temperature is not disturbed and more stable.
The maintenance space is more abundant and convenient.