Rotary Screw Air Compressor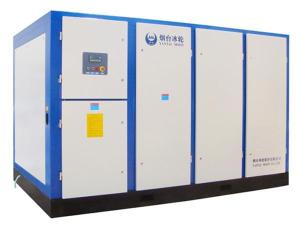 The common screw air compressor from Yantai Moon, a professional screw compressor supplier in China, is widely used in various fields including power, steel, shipbuilding, paper, cement, light industrial machinery, metallurgy, electronics, pharmaceutical, packaging, chemical, food, mining, textile, transportation, etc.
Features
1. The air compression equipment features large rotor, low rotation speed, high efficiency and low noise.
2. Maximum volume flow is up to 120m3/min.
3. It is designed with state of the art microcomputer control system and automatic detection, alarm and protection system.
4. The screw air compressor can realize variable frequency, joint and remoter control as well as soft start function.
Technical Parameters
Outlet pressure: 0.6~1.3MPa
Volume flow: 1~120m3/min
Motor power: 11KW~630KW
Founded in 1956, Moon Environment Technology Co., Ltd has been ranked as Top 100 enterprises in machinery industry of China. It is the first-class cold & hot system integration service expert, and has been leading the technology development of China's refrigeration and air conditioning industry for a long term. Moon Environment Technology Co., Ltd always aims at creating a better life for the human being and providing safe, environmentally-friendly, energy-saving refrigeration equipment and sincere service for the worldwide users. We provide customers with complete hot & cold system equipment solutions to meet users' specific and exact requirements, and realize sustainable development.