Stainless Steel Refrigeration Evaporator Air Cooler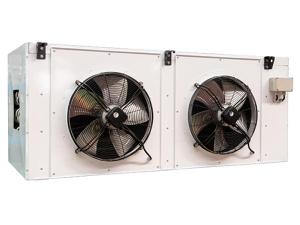 Models: DPR44816, DPR44612, DPR4288, DPR4266
This selection of industrial air cooler is engineered with aluminum fins and stainless steel tubes.
Specifications of the Evaporative Cooler
Fin spacing: 8/16mm, 6/12mm, 8mm, 6mm
Evaporation area: Customized according to client-side demand
Accepts refrigerant R717 (ammonia) and R744(CO2)
Installation methods: suspended mounting, floor standing
Founded in 1956, Moon Environment Technology Co., Ltd has been ranked as Top 100 enterprises in machinery industry of China. It is the first-class cold & hot system integration service expert, and has been leading the technology development of China's refrigeration and air conditioning industry for a long term. Moon Environment Technology Co., Ltd always aims at creating a better life for the human being and providing safe, environmentally-friendly, energy-saving refrigeration equipment and sincere service for the worldwide users. We provide customers with complete hot & cold system equipment solutions to meet users' specific and exact requirements, and realize sustainable development.