Water Cooled and Air Cooled Refrigeration Condensing Unit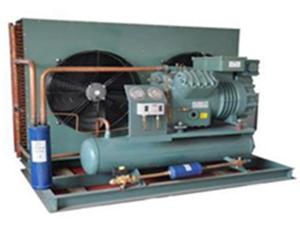 Models
High temperature condensing units: NJZ2 /NJZ3 /NJZ4 /NJZ5 /NJZ6 /NJZ7 /NJZ9 /NJZ10 /NJZ12 /NJZ15 /NJZ20 /NJZ25 /NJZ30 /NJZ40 /NJZ50
Low temperature condensing units: NJD2 /NJD3 /NJD4 /NJD5 /NJD6 /NJD9 /NJD12 /NJD14 /NJD18/23 /NJD28 /NJD34 /NJD44
Two stage condensers: NJS5 /NJS8 /NJS12 /NJS16 /NJS20 /NJS25 /NJS30
This range of condensing unit features semi-hermetic compressor technology and is available in air cooled and water cooled versions to suit individual demands.
Specifications of the Semi-Hermetic Condensing Unit
Accepts refrigerants such as R22, R404A and R134A
Evaporation area: High temperature units: +7℃~-20℃; low temperature units: -20℃~-35℃; two stage units: -35℃~-45℃
Cooling capacity: 3.5KW~150KW
Cooling method: Water cooled condensers and air cooled condensers are optional
Founded in 1956, Moon Environment Technology Co., Ltd has been ranked as Top 100 enterprises in machinery industry of China. It is the first-class cold & hot system integration service expert, and has been leading the technology development of China's refrigeration and air conditioning industry for a long term. Moon Environment Technology Co., Ltd always aims at creating a better life for the human being and providing safe, environmentally-friendly, energy-saving refrigeration equipment and sincere service for the worldwide users. We provide customers with complete hot & cold system equipment solutions to meet users' specific and exact requirements, and realize sustainable development.