Vacuum Fryer Machine Line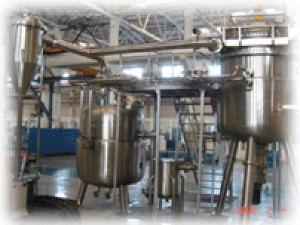 Vacuum fryer machine line adopts differential pressure oil supply and pump forced oil supply. And all the containers, piping valves and stainless steel of the oil system are made of SUS304 material, which well meets the requirements of food hygiene standard. Vacuum fryer machine line is mainly used to fry fruit flakes and vegetable flakes, some lump meat and aquatic products.
Technical Parameters
Type
MVF100
MVF150
VDF50
VDF100
Processing Capacity (㎏/a single time)
100
150
50
100
Oil Content
15%
15%
18%
18%
Moisture Content
3%
3%
3%
3%
Processing Time (min/ Batch)
20~30
20~30
20~30
20~30
Electricity Parameters
380V/50HZ
380V/50HZ
380V/50HZ
380V/50HZ
Pressure of Compressed Air (Mpa)
0.6
0.6
0.6
0.6
Steam Consumption (T/H)
0.8
1.3
0.5
0.8
Chilled Water Consumption(T/H)
40
50
30
40
Power
Vacuum Machine (KW)
7
14
7
5.5
Electromotor (KW)
3.7
3.7
4
3
Others
Column Cantilever Crane 1.1KW
Column Cantilever Crane
1.1KW
Oil Pump 3KW
Hydraulic Station 1.5KW
Oil Pump 3KW
Hydraulic Station 1.5KW
Note: Parameter setting of the fryer machine line is made of green beans as standard material.
Features
1. Vacuum pump adopts import technology, which can deal with a large amount of steam for three times in a short time, and can quickly establish vacuum condition of not less than 0.097-0.098 Mpa.
2. The frying process adopts PLC automatic control, which is equipped with automatic control device of temperature, frying, deoiling time and other parameters. In this way, unstable product quality caused by manual force could be prevented.
3. Fried oil kettle and oil storage kettle adopt direct coil heating and auxiliary heating. Kettle coil is equipped with cleaning system and oil storage kettle is equipped with oil cleaning device. Besides, the machine adopts mechanical seal and centrifugal oil-gas separator, and all containers are equipped with sewage outlet.