Water Cooled Centrifugal Chiller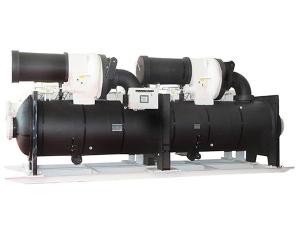 Features
Single-Stage Compression
The water-cooled centrifugal chiller features single stage compression which enables stable operation of compressor, and less moving parts than multi-stage compression. This ensures higher reliability in operation of the chiller unit.
High Energy Efficiency
The energy efficiency of this water cooled chiller is up to class 1. Its energy consumption is 11% lower than that of similar products in domestic market.
Advanced Configurations
The centrifugal chiller system employs R134a eco-friendly working medium, efficient flooded evaporator and state of the art CCS Touch I control system. Flexible configurations enable the cooling equipment to meet customer's requirements for different cooling capacities and energy efficiencies in different working conditions.
Applications
Our water-cooled centrifugal chiller is mainly used in nuclear power plants, airports, large stadiums, large shopping centers, etc.
Founded in 1956, Moon Environment Technology Co., Ltd has been ranked as Top 100 enterprises in machinery industry of China. It is the first-class cold & hot system integration service expert, and has been leading the technology development of China's refrigeration and air conditioning industry for a long term. Moon Environment Technology Co., Ltd always aims at creating a better life for the human being and providing safe, environmentally-friendly, energy-saving refrigeration equipment and sincere service for the worldwide users. We provide customers with complete hot & cold system equipment solutions to meet users' specific and exact requirements, and realize sustainable development.