DAG Series Industrial Air Cooler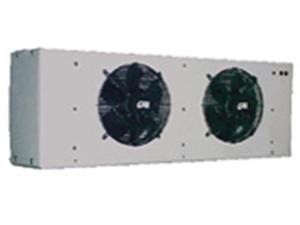 DAG series industrial air cooler is specially designed to cool the air conditioner of processing workshop (with a temperature of over +5℃)and the low temperature hall (a low temperature channel installed on cold storage for reducing the air exchange inside and outside the storage)
Technical parameter
Model
Glycol
Cooling area
airflow
Cooling distance
Connecting pipe size
Dimension
Design cooling capacity
Flow rate
Pipe fluid resistance
Refrigerant
Water outlet
kW
m3/h
bar
m2
m3/h
m
A
B
C
L*W*H
(mm)
Φmm
Φmm
Inch
DAG40C/16-40
7.1
1.28
0.44
40
2750
8
25
25
2
1245*805*700
DAG40C/26-75
14.5
2.62
0.45
75
5600
8
32
32
2
1983*805*700
DAG50C/26-115
22.3
4.04
0.47
115
9230
11
38
38
2
1974*845*940
DAG55C/36-235
45.3
8.2
0.48
235
19014
14
57
57
2
3465*855*940
DAG40C/46-155
29.4
5.32
0.45
155
11000
8
45
45
2
3461*805*700
DAG45C/46-195
38.4
6.95
0.49
195
17200
12
45
45
2
3461*805*820
DAG50C/46-275
51.8
9.38
0.46
275
20000
12
57
57
2
3465*845*1060
DAG55C/46-315
60.5
10.95
0.48
315
25352
14
57
57
2
3465*855*1180
Features
1. With the stretching for Air inlet's bottom plate, a trumpet-like air inlet is produced, which possesses a high stiffness, low air flow noise and attractive appearance.
2. Tubular heat exchangers are interlaced, allowing a reasonable air flowing and small flow resistance. Besides, since fins enjoy a direct connection with tubular heat exchangers, there is a small thermal contact resistance, a high heat exchanger efficiency, and good corrosion resistance.
3. Yantai Moon's air cooler all possesses axial fans, featuring high efficiency, small energy consumption and low noise. Meanwhile, when equipped with engine with introduced bearing, it will possess a protective level of IP54.
4. If required, Yantai Moon could produce various air coolers with different defrosting methods, such as water defrosting, electronic defrosting, hot gas defrosting, natural defrosting and etc.