Propane Precooling Compressor Package Unit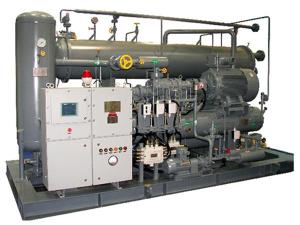 Here's our screw compressor package designed for natural gas liquefaction process with propane pre-cooling option. The gas compressor package is provided with an open-drive screw compressor.
Specifications of the Screw Compressor Package
Inlet pressure: -0.05~0.5MPa(G)
Inlet temperature: >-50℃
Outlet temperature: <90℃
Flow regulation range: 10~100%
Flow regulation method: Slide valve or slide valve + frequency converter
Founded in 1956, Moon Environment Technology Co., Ltd has been ranked as Top 100 enterprises in machinery industry of China. It is the first-class cold & hot system integration service expert, and has been leading the technology development of China's refrigeration and air conditioning industry for a long term. Moon Environment Technology Co., Ltd always aims at creating a better life for the human being and providing safe, environmentally-friendly, energy-saving refrigeration equipment and sincere service for the worldwide users. We provide customers with complete hot & cold system equipment solutions to meet users' specific and exact requirements, and realize sustainable development.