Polyurethane Sandwich Panel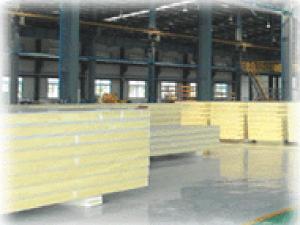 Polyurethane sandwich panel is one of the exterior protective panels, which feature good thermal insulation and high strength. Not only building construction fields, our polyurethane sandwich panel could also be installed in cool storage, grain depots, seed banks, gyms, shopping malls, seaside villas, and plants for diverse fields, such as metallurgical industry, textile industry, electronics industry, chemicals, and product storage fields.
Technical parameters
Name
Length (mm)
Width (mm)
Thickness (mm)
Normal type


Composite type cold storage panel
Roof panel


Side panel
≤8100 (With hook lock box)
1100 (color steel plate)
60
100
125
970 (Stainless steel plate)
150
180
≤13213 (No hook lock box)
1120
50
75
100
125
150
175
200
Water absorption (%) (V/V)
≤4
Structure and features
1. Molds for the polyurethane sandwich panel all undergo a high pressure foaming with the help of eco-friendly 141B foaming agent.
2. Some are equipped with hook lock box, and others are outfitted with eccentric locks. They all enjoy easy installation and disassembling.
3. New hook lock box-free polyurethane sandwich panel is one of the China's advanced panels, whose model adopts hydraulic positioning system. And the upper and lower panels are formed simultaneously.
4. Polyether foam, as a thermal insulation material, is adopted, which has excellent thermal insulation capacity, and high impact strength and tensile strength.
5. Both the inner and outer metal panels for cool storage use could be chosen freely from hot galvanized color steel panels, anti-rust aluminum plate and stainless steels. Besides, since the metal panels are bonded with thermal insulation materials, the strength of thermal insulated panel could be increased.
6. Our polyurethane sandwich panel has a concave-convex structure, allowing easy installation, good air tightness and eye-catching appearance.