17 Series Refrigeration Reciprocating Compressor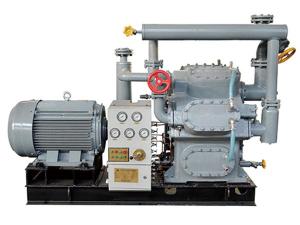 The 17 series refrigeration reciprocating compressor adopts advanced processing methods, new technologies, new materials and improved design, and has been widely used in various fields of artificial refrigeration such as industry, agriculture, transportation, health care, scientific research.
Technical Parameters
Type
Working Condition
Refrigerant
Refrigerating Capacity
Compressor
Electromotor
Number of Cylinders
Capacity Control
Electricity Parameters
Power
℃


kw
PCS




kw
4AV-17-90Z
-15/+30
R717
255
4
0,1/2,1
Three-phase Electricity

380V

50HZ
90
4AV-17-132G
+5/+40
558
132
6AW-17-132Z
-15/+30
383
6
0,1/3,2/3,1
132
6AW-17-185G
+5/+40
837
185
8AS-17-185Z
-15/+30
510
8
0,1/4,2/4,3/4,1
185
8AS-17-250G
+5/+40
1116
250
S6-17-90D
-35/+35
100
High 2 Low 4
High Voltage 0,1
Low Voltage 0,1/2,1
90
S8-17-132D
162
High 2 Low 6
High Voltage 0,1
Low Voltage
0,1/3,2/3,1
132
S8-17ADF
110
Advantages
1. The valve optimized by CAD has small resistance and long service life.
2. Advanced shaft seal structure and materials made the compressor reliable and durable.
3. The high pressure connecting rod roller bearing with cage has high accuracy and long service life.
4. The piston ring is made in a single casting process which ensures the elasticity not attenuated.
5. Cylinder liner is quenched in the condition of electric spark and high phosphorus, which enables good wear resistance.
6. The crankshaft checked through dynamic balance has good balance and small vibration.
7. Connected by elastic coupling, the machine has a high efficiency, energy saving and self-correcting centering function.
8. The energy regulating mechanism enables the unit to start without load and work with partly load, which saves much electricity.
9. Y series motors with high efficiency, energy saving, small size and light weight.
10. Perfect safety protection.