Open Drive Marine Refrigeration Compressor Unit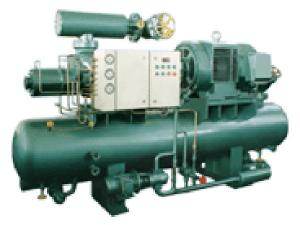 The marine refrigeration compression unit is widely used in all kinds of ships, for example, seine longline boats, trawlers, fishing and transport ships, processing and refrigerated ships for tuna, shrimp, crab, fish and other marine products. The application of this compressor unit can improve the working conditions of the ship, increase its endurance, meet the needs of fisheries development.
Technical parameters
Type
Unit
LG12BMF-C / LG12BMFJ-C
LG16BMF-C / LG16BMFJ-C
LG20BMF-C / LG20BMFJ-C
Refrigerant


R22
Working Condition
℃
+35/-35
Refrigerating Capacity
kW
149/72
326/156
615/297
Electromotor
Electricity Parameters


3N 50HZ 380V
Power
kW
55
110
200
Capacity Control
%
15~100
Oil Pump Power
kW
1.5
2.2
2.2
Size
mm
2500×1000×1500
2750×1180×1800
3120×1300×2070
Note: the liquid outlet temperature with economizer is 5℃ higher than that of air supply pressure; cool water inlet temperature of oil cooler is +30℃, and the temperature difference between inlet and outlet is 5℃.
Features
1. Refrigeration compressor unit adopts high strength bearing, with high life and reliable performance.
2. The rotor profile and its envelope adopt advanced bilateral asymmetric arc with high machining precision, low noise, high efficiency and energy saving.
3. The machine adopts the design of exhaust port with invention patent, which reduces the exhaust resistance, noise, and pressure loss.
4. A stepless speed regulation of energy can be achieved.
5. The forced oil supply method is adopted to overcome the defects of unstable oil pressure caused by different operating conditions.
6. The shaft seal is reliable and durable; the shaft seal cavity is specially designed with good sealing performance.
7. An efficient oil separator is adopted to ensure the oil supply of the compressor within a certain range of the hull inclination.
8. The high efficiency oil cooler is adopted, which has strong seawater corrosion resistance, good heat exchange performance, small volume and light weight.
9. The laminated elastic coupling is adopted, so that the ability of automatic alignment is strong, and the service life is long.
10. High precision stainless steel oil filter and gas filter are adopted, and the filtration accuracy is up to 20μm.
11. The high efficiency heat exchange tube with economizer is adopted to improve the refrigerating capacity and efficiency of the compressor, and the operation is more economical at low temperature.