Semi-Hermetic Refrigeration Reciprocating Compressor Unit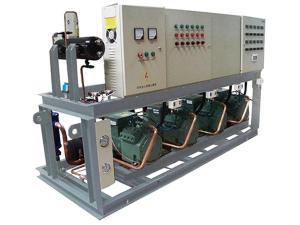 The semi hermetic parallel piston compressor unit is a system of semi hermetic piston compressors which are interconnected and work together. The parallel compressor system can maximize the energy efficiency when used in a refrigeration system.
Specifications of the Semi Hermetic Parallel Piston Compressor Unit
Air end quantity: 2-6
Air end capacity: 7P~50P
Accepts refrigerants such as R22, R404A and R134A
Cooling method: Water cooled / air cooled / evaporative cooling
The parallel compressor system shall be additionally equipped with a condensing unit.
Evaporating temperature:
High temperature parallel piston compressor units: +7℃~-20℃
Low temperature units: -20℃~-35℃
Two stage units: -35℃~-45℃
Cooling capacity: 30KW~900KW
Founded in 1956, Moon Environment Technology Co., Ltd has been ranked as Top 100 enterprises in machinery industry of China. It is the first-class cold & hot system integration service expert, and has been leading the technology development of China's refrigeration and air conditioning industry for a long term. Moon Environment Technology Co., Ltd always aims at creating a better life for the human being and providing safe, environmentally-friendly, energy-saving refrigeration equipment and sincere service for the worldwide users. We provide customers with complete hot & cold system equipment solutions to meet users' specific and exact requirements, and realize sustainable development.