Ammonia Gas Compressor, Methyl Chloride Gas Compressor, SO2 Gas Compressor, CO2 Gas Compressor Package Unit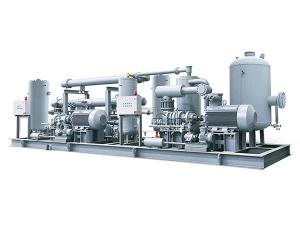 Here at Yantai Moon, as an expert in gas compression solutions with rich industry experience, we offer an excellent gas compressor package for ammonia, methyl chloride, SO2 and CO2 applications. Whether your need ammonia compressor, methyl chloride compressor, SO2 compressor, or CO2 compressor, this screw compressor package provides the optimal solution.
Specifications of the Gas Compressor Package
Volume flow: 140-7540m3/h
Inlet pressure: -0.05~0.5MPa(G)
Outlet pressure: 0.2-4.5MPa(G)
Inlet temperature: >-50℃
Outlet temperature: <90℃
Flow regulation range: 10~100%
Flow regulation method: Slide valve or slide valve + frequency converter
Founded in 1956, Moon Environment Technology Co., Ltd has been ranked as Top 100 enterprises in machinery industry of China. It is the first-class cold & hot system integration service expert, and has been leading the technology development of China's refrigeration and air conditioning industry for a long term. Moon Environment Technology Co., Ltd always aims at creating a better life for the human being and providing safe, environmentally-friendly, energy-saving refrigeration equipment and sincere service for the worldwide users. We provide customers with complete hot & cold system equipment solutions to meet users' specific and exact requirements, and realize sustainable development.