Air Cooling Food Freezer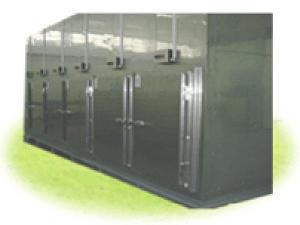 Air cooling food freezer can be widely applied to the aquatic products and other foods' quick freezing, such as sashimi, chub mackerel, sardines, squid, fried fish, fish, shrimp, shellfish, clove Baozi Stuffed with Red Bean Paste etc.
Technical Parameters
Type
DJK-130
DJK-140
DJK-600
Refrigerating Capacity (Kg/One time)
960
1200
1500
Refrigerating Energy Consumption (Kw)
35
40
60
Feeding Temperature (℃)
+18℃
Out feeding Temperature (℃)
-20℃
Weight (t)
2.4
2.8
3.2
Advantages
1. The structure of air cooling food freezer is reasonable and the freezing efficiency is high
2. The bottom plate of the cool storage is inclined to a certain angle, which makes it easy to drain and ensure the sanitation in the storage.
3. The rigid polyurethane foam is used in the part of the storehouse, maintaining good preservation of heat.
4. Different kinds of foods correspond to different refrigerating capacity
5. The freezer adopts the whole stainless aluminum alloy evaporator, variable fin pitch structure, therefore achieving high heat exchange efficiency, and rendering the machine capable of working continuously for a long time. Adopting the method of deforesting by water, thereby ensuring the evaporator is clean.
6. All use stainless steel shelves, which underwent an argon arc welding.
7. Door lock, standard parts, inside and outside panel are all made with stainless steel, so maintain good corrosion resistance ability.
8. The freezer is also featured with its easiness of controlling, being both safe and reliable, also possesses power failure protection device and self-reset function.